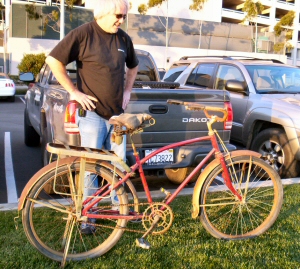 Rollfast Roamer (1937 likely)
12/2004 Whew - This looks like a project!
Kurt gave me this bike, and the story he got was this: 1923 Roamer. Originally had wood rims, but replaced with steel. Right crank arm 'different' than original (has bend in arm). Originally had light on front fender. Has glass reflector on rear fender (will take picture). Originally had 'tank'
Looking at other pictures of Rollfast bikes, I wonder if the year is correct. Seems like frames from 20's had a more angled intersection where top tube met upper chain stays. Skiptooth chain. Non/original pedals. Noticable weld between top tube / crown. Came with chain cover, but not correct vintage (this one is fluted)
UPDATE - thanks to Sam Lingo... this is likely a 1937 model...came originally with the steel rims and the tires. May actually have NOT included a tank.
Couldnt resist - sprayed the chain, inflated the tires (to the whopping 20lbs suggested!), and went for a short ride !
If you've got thoughts on this 'beauty', send me an email