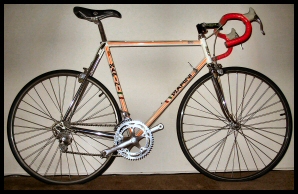 1984 Marini
Do you have any information about this frame ? The saga I have heard is that the same Italian frame builders who created the Ciocc also built this frameset, and that it shares features and design elements found in the Ciocc's made in the 1980's.
Found a website from Mark Bulgier where he's collected bike catalogs. And the Ciocc catalog has interesting text on the same place on the top tube as my Marini does. You can see similar markings in this picture from Mark's site

The frame was sold in Thousand Oaks, CA, by ________ at _______ cycles. The components are Campy except for the Shimano/Wolber wheelset.

It does ride very nicely

If you know anything about these frames, would you drop me an email ??

Rich Pinder
1420 San Pablo #B105
Los Angeles CA 90033
(323) 442-1640
(323) 442-2485 fax
rpinder@usc.edu
© 2003 Rich Pinder. All rights reserved.
All materials appearing on this website may not be used in any way without prior permission from Rich, and in no case for profit.