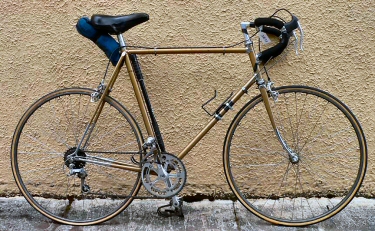 1972 Schwinn Paramount P13-9
Got this from SellWood up in Oregon. I lucked out and called Steve just as he was opening up his shop, and after posting the bike for sale on the web. I actually was driving thru the desert on the way to start my 'Desert Ride' - so it was kind of a treat to pick up this bike for a project.
In process here in 2007. Serial number on Fork: L 7221 2 - indicates 21st frame built in November, 1972. I'm going to use some non'original components on this one ( drilled out Stronglight triple, for one!) - and the gray mafac tubular rims that came with it. I wanted something to use on our local 'Mt Baldy' climb this next fall. Suntour barends. South Pacific branded 'Paris Roubeax' sewups - fat 28mm for that smooth ride. Havent wrapped on the leather - still using the Fizik black tape.